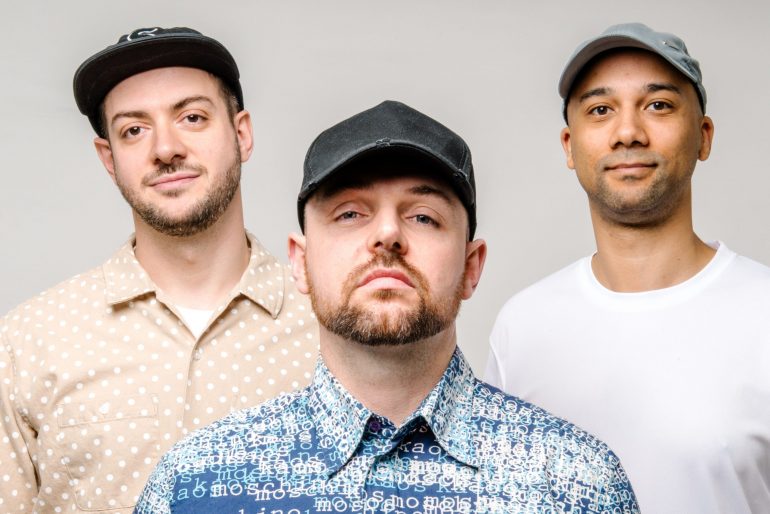 На выходных Essential Mix сыграла драм-энд-бейсовая супергруппа из Великобритании Kings of the Rollers.
В ее составе три участника: Serum, Voltage и Bladerunner, которые по-отдельности выпускаются на таких тяжеловесных лейблах как V Recordings, Metalheadz и RAM Records. В качестве коллектива они подписаны эксклюзивно на Hospital Records.
В июне они ремикшировали трек Watch The Ride x Nia Archives «Mash up the Dance», а также выступали по клубам и на разных фестивалях Великоьритании, включая Creamfields.
Слушайте микс трио на сайте BBC Radio 1 или в плеере ниже.
Плейлист:
Kings of the Rollers – Down I Go
Voltage – Voice Notes
Shy FX – Raggamuffin (Potential Badboy Remix)
Mozey – Tennis
Serum – Wave Riders
Halogenix – Independent
Bladerunner – Regeneration
Bladerunner – Don't Break It
Bladerunner & Nectax – Badlands
Breakage – The Original Certified Bubbler
Voltage – Anubis
Voltage – Jazz Tickles
Bou – Veteran (Serum Remix) (feat. Trigga)
Serum – Waltzer [Dub]
D*Minds – Cash Man VIP
Bladerunner – Destination Jungle
Zed Bias ft Inja – You Should Dance (Bladerunner Remix)
Bladerunner – Light Cycles
Voltage – Bad Boy Selection VIP
Delilah – Go (S.P.Y Remix
Kings of the Rollers – Timebomb VIP
Commix – Be True
Top Cat – Ruffest Gun Ark (Bladerunner & DJ Rap Remix)
Pascal – P Funk Era
Bladerunner – Feels Like Heaven
Selecta J-Man – Dragon Stout (Acuna Remix)
Bladerunner – Take Me Away
Emeli Sand – Heaven (Nu:Tone Remix)
L Side – Spellbound
LSB – Potshot (Voltage Remix)
Kiril – Hoovers Don't Judge, People Do
Shy FX – Balaclava (Skeptical Remix)
Armodine – Release My Anger
Ray Keith – Dark Soldier (Alcemist Remix)
Benny L – Alpha
Bladerunner – Intensity
Clipz – Burst
DJ Fresh & Sigma – Cylon
Firefox – Bonanza Kid (Benny Page Remix)
Serum – Manic Miner
Serum – Malibu Sunset
Dead Dred – Dread Bass (Bladerunner Remix)
Gray – Come Around
Kings of the Rollers – You Got Me (S.P.Y Remix VIP 2)
Potential Bad Boy – Wa Dada Deng (feat. Uncle Nuts)
DJ Die & Suv – Slide Away
Dillinja – Acid Track (Voltage Remix)
Todd Terry – Bounce to the Beat (Serum Remix)
Skeptical – Musket
L Side – Walk Out (feat. Trigga)
Bladerunner – Rave Machine
Voltage – Bad Dis Bad Dat
Kings of the Rollers – Gringo (Alternative Mix)
Koffee – Toast (Clipz Remix)
Watch The Ride – Time's Up
Voltage – Load Up (feat. Sweetie Irie)
Dimension – Whip Slap II
DLR – Staying Up Late Making Music
TC – Shade (feat. Jakes)
Class A – I'm Free (Bladerunner Remix)
L Side – Untitled (feat. MC Bassman)
Disrupta – Wireless
Voltage – Kill Another Soundboy (feat. David Boomah)
Voltage & Shy FX – Amazing (feat. Agent Sasco)
Noisia – Diplodocus (Skeptical Remix)
Serum – Pump It
Kings of the Rollers – Rave Alarm
Kings of the Rollers – Soul Flava
Shabba Ranks – Entertainer (Bladerunner Remix)
DJ Ham – Most Uplifting (Bladerunner Remix)
Ray Keith – Yes Yes (Bladerunner Remix)
Chimpo – Mixup (feat. Inqus)
Break & DJ Die – Slow Down
Breakage – Lickshots for Headtops
YAANO – IDK
Watch The Ride – Mash Up The Dance (Kings of the Rollers VIP) (feat. Nia Archives)
T>I – Crusty
Bladerunner & Inja – Rave Eyes
Bladerunner – Who We Are
Massive Attack – Unfinished Sympathy (Bladerunner Remix)
Adam F – Circles (Pola & Bryson Remix)
DJ Guv – Spinning Method (Hedex Remix)
Serum & Voltage – Don't Know Why
Hazard – When The Dreams Are Over
Motionz – Round Ere
Serum – Speedball
Vibes & Wishdokta – Feels Good (Bladerunner Remix)
Bladerunner – War Dub
Taxman – Listen Good (feat. MC Moose)
Voltage – Hard Goin VIP [Dub]
Chase & Status – Program (feat. Irah)
Serum & Bladerunner – Break It Down
Voltage – Reebok Classics (feat. Chimpo)
Serum – Wreck The Gaff
Kings of the Rollers – Overload (feat. Sweetie Irie)
Mozey – Knock Ya Block Off
Bladerunner & Eden – In My Soul
Skantia – Powerline
Kings of the Rollers – Style and Pattern (feat. Yung Saber)
Kings of the Rollers – Serengeti (Dub)
Kings of the Rollers – Angel [Dub]
DLR – Brain Eaters
Paul T & Edward Oberon – Somewhere Else (Serum Remix)
T>I & D*Minds – Kill Sound