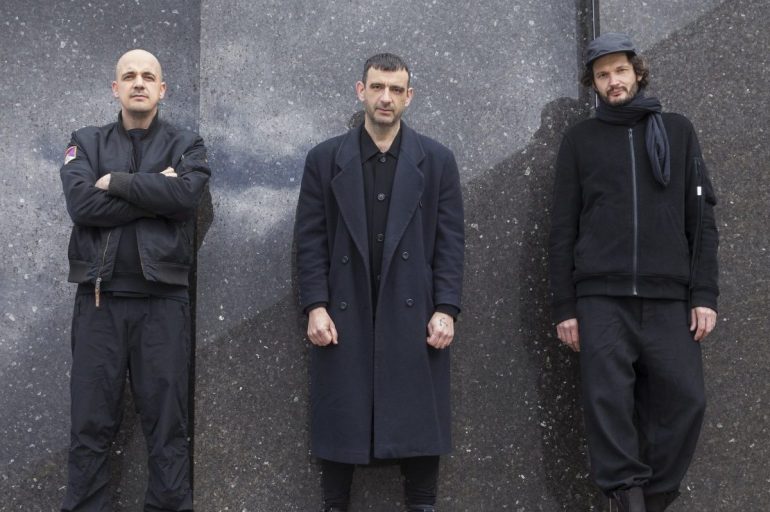 Немецкая супергруппа Moderat, состоящая из Apparat и Modeselektor, в выходные вернулась в эфире BBC Radio 1 с новым Essential Mix.
В прошлом году проект вернулся с новым альбомом «More D4ta» после шестилетнего перерыва, а в прошлую пятницу, 17 марта, — выпустил пластинку ремиксов «Even More D4ta», куда вошли переработки Sherelle, Logic1000 & Big Ever, DJ Lag и других.
В этом месяце также стало известно о датах трех балтийских концертов Moderat осенью, один из которых пройдет в Риге.
Слушайте микс на сайте Radio 1 или в плеере ниже.
Плейлист:
Moderat 'Fast Land'
Bomb the Bass 'Shake It'
j‐hope 'Intro'
Pavel Milyakow 'Choirs'
Overmono 'Is U'
Swoose 'Breathe'
The Future Sound of London 'Cascade (Short Form)'
DEKARNATED 'TABLETENNIS'
King Krule 'The Sea Liner Mk 1'
Gaya Bisengalieva 'Kantubek (Moor Mother Remix)'
Moderat 'NUMB BELL'
Flume 'Why 1.3 (2012 Export Wav)'
Björk 'The Anchor Song (Black Dog Mix)'
Kim Gordon 'Paprika Pony'
Toxe 'Honey Island'
Nazar & Shannen SP 'Airstrike'
Kelly Lee Owens 'Moebius'
Moderat 'FAST LAND (The Bug's G36 Mix)'
Emma DJ 'Caresse Antillaise'
Emma DJ 'Ferg'
Santa Muerte 'Exus'
Moderat 'COPY COPY (Logic1000 & Big Ever Remix)'
Yuush 'Same Same'
Vril 'terraformink'
Marcel Dettmann 'Selective Dissolution'
DEKARNATED 'MESSAGE'
3 Phaz 'Sharayet'
MOBBS 'Rook'
Brodinski & Modulaw 'Airhorns'
Rrose 'In The Place Of Matter'
Lutto Lento 'Pond (live)'
Malibu 'Camargue'
Smerz 'You See'
felicita 'Soft Power'
Speaker Music & Maia Sanaa 'Amerikkka's Bay'
Cotton Mouth 'FDD+F'
Никита Забелин 'Остановка осень облако'
Moderat 'UNDO REDO (ZULI Remix)'
Moderat 'UNDO REDO'
Basic Channel 'Phylyps Trak'
Evita Manji 'One Up Too High'
Amnesia Scanner & Bill Kouligas 'Lexachast'
The Maghreban 'Baby'
Novelist x Mumdance 'One Sec'
Cassius Select 'Fish Tek'
DEKARNATED 'ULTRADRUM'
Carrier 'Lazy Mechanics'
Oli XL 'Cartoon Smile'
Modeselektor 'Extended Chords (Excerpt)'
J.G. Biberkopf 'Age Of Aquarius'
Moderat 'Neon Rats (Sherelle's Sleepless In Philadelphia Remix)'
Фото: Birgit Kaulfuss.