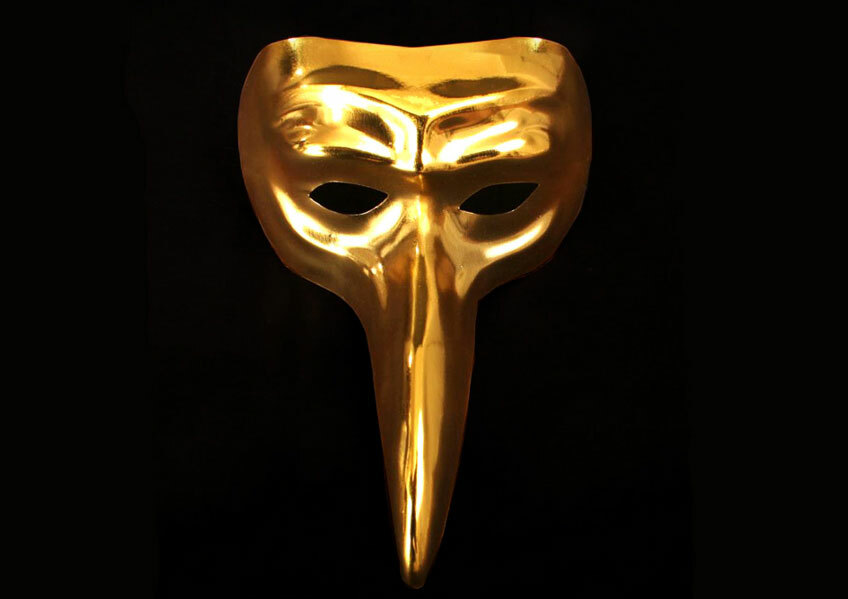 Загадочный немецкий продюсер из Берлина, который пару лет назад появился на сцене с двумя хитами «Cream» и «No Eyes» в прошлые выходные сыграл дебютный Essential Mix на BBC Radio 1.
Ремикс Claptone трека Gergory Porter «Liquid Spirit» и его собственная запись «The Music Got Me» в данный момент находятся в топе 20 продаж магазина Beatport. Этот артист постоянно выступает в карнавальной маске, а свой микс в эфире представил голосом, намеренно искаженным при помощи питча.
Как говорит сам музыкант, его микс это нечто особенное – он сделал несколько специальных версий собственных мелодий, а также сыграл классические хаус-хиты Johnny Corporate, Layo & Buschwacka!, Tori Amos и других.
Напомним, что Claptone выступит в клубе First Dacha на вечеринке Deeplomacy в августе этого года.
Треклист
Vangelis – Bicycle Riders (Harps Of The Ancient Temple) EMI.
The White Stripes – In The Cold Cold Night XL RECORDINGS.
Metronomy – Loving Arm (Soul Clap's 'Shake A Leg' Remix) BECAUSE MUSIC.
Artenvielfalt vs Moloko – How We Chill x The Time Is Now (Acapella) OFF SPIN.
Black Light Smoke – Lovework (DJ T. Remix) GET PHYSICAL MUSIC.
Loden In Ny vs Claptone – The Magic Room (Dino Lenny Remix) x Night On Fire (Acapella) FINE HUMAN RECORDS].
Metro Area vs Claptone – Miura x Another Night (Acapella) ENVIRON.
The Magician vs The Police – When The Night Is Over (feat. Newtimers) (Claptone Remix) x Roxanne (Acapella) PARLOPHONE UK.
CAN – Vitamin C UNITED ARTIST RECORDS.
Nhan Solo – Tell Me MOTHER RECORDINGS.
Claptone – Control WHITE LABEL.
Turntablerocker vs Daft Punk – Grow Up x Too Long (feat. Romanthony) (Acapella) JEUDI.
Noel Nanton – Your Love (Ian Pooley Remix) HONCHOS MUSIC.
Kenny Dixon, Jr. – Don't You Want My Love NTANGIBLE RECORDS & SOUNDWORKS.
Stefano Ritteri – The Partylife EXPLOITED.
Mighty Dub Katz – Just Another Groove SOUTHERN FRIED RECORDS.
Bagatelle – Clin D'Oeil FOLLOW ME RECORDS.
Claptone – Good To You EXPLOITED.
James Brown – Blind Man Can See It POLYDOR.
Earth People – Dance CHAMPION.
Justin Jay – Femme Fatale DIRTYBIRD.
Claptone – Cream EXPLOITED.
Claptone – The Music Got Me EXPLOITED.
Click | Click – The Muzic Box EXPLOITED.
Doorly – I Want You To Dance TOOLROOM LONGPLAYER.
Claptone – Secret Lover (feat. Jaw) DIFFERENT.
ME & Her & David Keno – Walking Boots STIL VOR TALENT.
Layo & Bushwacka! – Love Story XL RECORDINGS.
Jack Peñate – Tonight's Today XL RECORDINGS.
Gregory Porter – Liquid Spirit (Claptone Special Mix) DECCA.
Tori Amos – Professional Widow (Armand Van Helden Remix) ATLANTIC.
Claptone – 100.000 (Ladies & Gentlemen) WHITE LABEL.
Johnny Corporate – Sunday Shoutin' DEFECTED.
Sirens Of Lesbos – Long Days Hot Nights (Claptone Remix) EXPLOITED.
Tom Trago – Use Me Again (Carl Craig Remix) RUSH HOUR RECORDINGS.
Raumakustik – Raider HOT TRAX.
Claptone – Wrong (Pianopella) EXPLOITED.
The Chemical Brothers vs Christian Lampert – Block Rockin' Beats x Dog Chord FREESTYLE DUST.
George Morel & SPJ – Let's Groove (Claptone Remix) GET PHYSICAL.
Jacob Korn – She UNCANNY VALLEY.
Elderbrook vs Claptone – How Many Times (Andhim Remix) x No Eyes (Acapella) BLACK BUTTER RECORDS.